When it comes to conquering the great outdoors, having the right pair of hiking boots is paramount. Asolo hiking boots have been trusted by outdoor enthusiasts for their exceptional quality, durability, and performance.
In this comprehensive review, we will explore the top three best Asolo hiking boots that are sure to elevate your outdoor experience. From lightweight designs to waterproof features, these boots are built to withstand rugged terrains while providing unmatched comfort.
Join us as we delve into the features, pros, and cons of each boot, helping you make an informed decision for your next adventure.
Top 3 Best Asolo Hiking Boots Review
1. Asolo Men's Fugitive GTX Hiking Boot: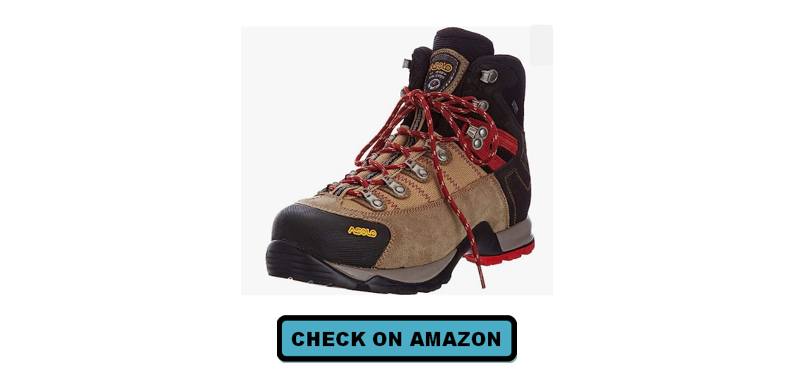 Experience the perfect blend of lightweight design, comfort, and durability with the Asolo Men's Fugitive GTX Hiking Boot. Crafted with a combination of Cordura, leather, and suede, these boots are engineered to withstand the rigors of the trail. Imported with meticulous attention to detail, they feature a rubber sole for enhanced traction and grip on various terrains.
The meaning behind the "V", "GV," and "GTX" in the Asolo style names reveals the exceptional features of these boots. The "V" stands for a Vibram outsole, ensuring optimal traction and durability.
The "GV" signifies a Gore-Tex lining with a Vibram outsole, offering both waterproof protection and breathability. Lastly, the "GTX" represents a GORE-TEX® lining, providing the ultimate waterproof solution for your hiking needs.
Designed for light hikers and trekkers, these boots prioritize lightweight comfort without compromising performance. The duo Asoflex midsole, featuring two fused elements, enhances both comfort and functionality.
The first element, constructed from a stiff material, helps prevent pronation, supination, and torsion, ensuring proper foot alignment. The second element, made from a softer material, offers exceptional shock absorption, reducing strain on your feet during long hikes.
The water-resistant suede and Cordura® uppers provide additional protection against moisture, ensuring your feet stay dry even in wet conditions. With GORE-TEX® liners, these boots offer a perfect balance of waterproofing and breathability, allowing moisture to escape while keeping water out. The bi-density rubber outsole provides cushioning and traction, offering stability on various surfaces.
Weighing only 1.52 pounds (690 grams), these boots are remarkably lightweight, reducing fatigue during extended hikes. The Asolo Men's Fugitive GTX Hiking Boot is available in various sizes, ensuring a perfect fit for every adventurer. Please note that measurements may vary by size, so be sure to consult the provided size chart.
Pros:
Lightweight, Waterproof, Durable
Cons:
Sizing may vary
2. Asolo Men's TPS 520 GV Hiking Boot: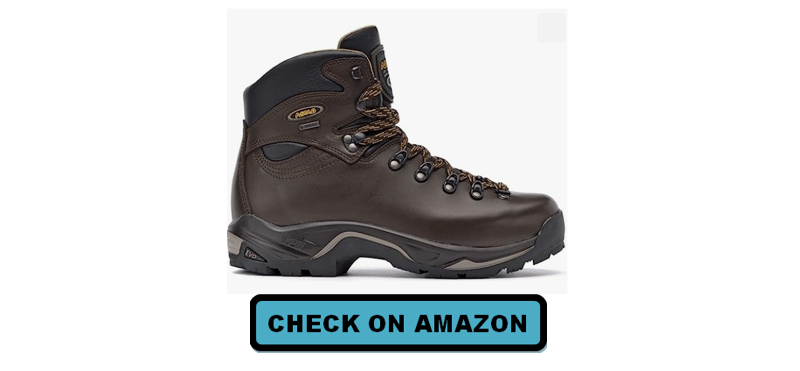 The Asolo Men's TPS 520 GV Hiking Boot sets a new standard for quality and durability in outdoor footwear. With a synthetic sole and a shaft measuring approximately 6.5 inches from the arch, these boots are built to tackle the toughest terrains. Designed for those who demand excellence, these boots offer high-quality performance and protection.
Featuring a precise design, these boots fit snugly against your feet, providing optimal comfort and support. The openings on the protector case allow convenient access to all controls and features, ensuring you can navigate your hiking adventures without hindrance. With their precisely cut openings, these boots offer full access to all the functions of your phone, allowing you to stay connected even in the great outdoors.
In addition to their functionality, the Asolo Men's TPS 520 GV Hiking Boots boast a stylish design that complements your outdoor gear. Whether you're conquering rocky trails or trekking through lush forests, these boots will make a statement with their rugged yet fashionable appeal.
Pros:
Durable, Protective, Stylish
Cons:
Slightly heavy
3. Asolo Men's Falcon GV Durable Hiking Boots: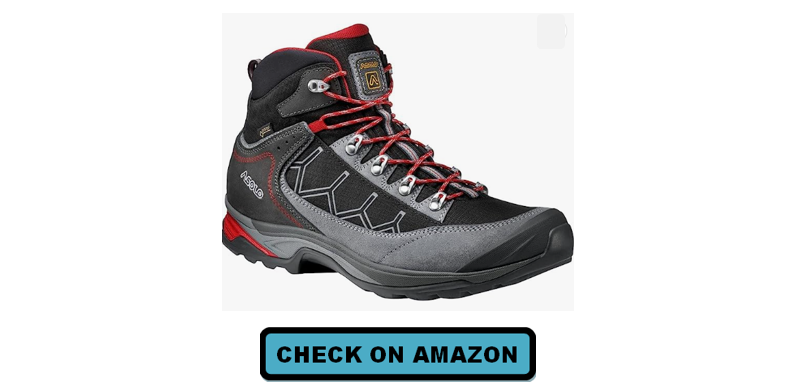 The Asolo Men's Falcon GV Durable Hiking Boots are built to tackle any terrain with ease. These boots ensure a smooth and comfortable hiking experience, making them an ideal choice for outdoor enthusiasts seeking exceptional performance and durability.
Crafted with 100% suede, these boots offer exceptional strength and longevity. Designed with a rubber sole, these boots feature the renowned Vibram outsole technology, delivering superior traction and stability on various surfaces.
The mid-cut design provides excellent ankle protection, reducing the risk of injuries while maintaining flexibility for natural foot movement.
The water-resistant suede leather upper, ranging from 1.6-1.8mm in thickness, guarantees exceptional durability and protection against the elements. The high-tenacity nylon panels further enhance the boots' durability while maintaining breathability, ensuring a comfortable environment for your feet.
Equipped with GORE-TEX® Extended Comfort Footwear technology, these boots provide waterproof protection, keeping your feet dry in wet conditions while allowing heat and moisture to escape. This feature makes them particularly suitable for moderate to warm climates, offering a non-insulated safeguard against the elements.
With a plush tongue and collar, these boots prioritize your comfort, providing cushioning and support during long hikes. The heel pull loop facilitates easy on and off, saving you time and effort. The TPU toe cap offers added protection against rocks and debris, ensuring your feet remain safe and secure throughout your outdoor adventures.
Pros:
Durable, Waterproof, Ankle protection
Cons:
Slightly heavy, Limited insulation
Three Factors to Consider When Buying Asolo Hiking Boots:
1. Uncompromising Comfort:
Asolo hiking boots are designed with advanced features like shock absorption, anti-pronation, and anti-supination properties, ensuring a comfortable and stable stride. Look for boots with cushioned midsoles and plush collars for enhanced comfort during long hikes.
2. Durability and Protection:
Asolo boots are known for their rugged construction and durable materials like water-resistant suede and Cordura® uppers. Consider boots with reinforced toe caps and ankle support for added protection against rocks, roots, and uneven terrain.
3. Weather Resistance:
Asolo hiking boots often come with GORE-TEX® liners, offering waterproof yet breathable protection. Look for boots with reliable weatherproofing to keep your feet dry in various conditions, ensuring a comfortable hiking experience.
Read more about our article: Best hiking boots for thru-hiking
Conclusion:
In conclusion, Asolo hiking boots have established themselves as top contenders in the world of outdoor footwear. The Asolo Men's Fugitive GTX, TPS 520 GV, and Falcon GV Durable Hiking Boots offer exceptional performance, durability, and comfort for outdoor enthusiasts.
Whether you're embarking on a multi-day thru-hike or exploring challenging terrains, these boots are designed to exceed expectations. Invest in Asolo hiking boots, and embark on your next adventure with confidence, knowing that your feet are equipped with the best in the industry.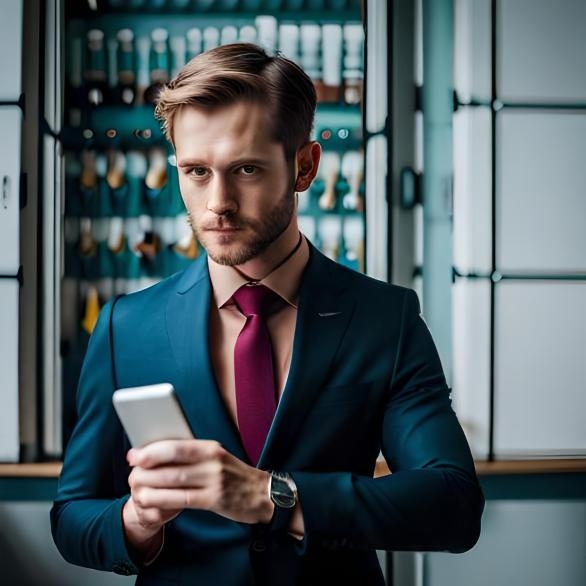 Tyler Looney is an avid hiking enthusiast and the author of HikingBootsPros.com, a website dedicated to providing helpful insights and advice on choosing the best hiking boots. His expertise and passion for hiking have made him a valuable resource for both beginner and experienced hikers alike.