Welcome to our comprehensive review of Vasque hiking boots. In this article, we'll dive into the top three Vasque hiking boots that have garnered immense popularity among outdoor enthusiasts.
Whether you're a seasoned hiker or a novice explorer, finding the right pair of hiking boots is essential for a comfortable and safe trek.
Vasque, a trusted name in the outdoor footwear industry, offers a wide range of hiking boots designed to withstand rugged terrains while providing exceptional performance and comfort. Join us as we explore the features, pros, and cons of these top-rated Vasque hiking boots.
Top 3 Vasque Hiking Boots Review
1. Vasque Men's Breeze AT-Mid GTX Goretex Waterproof Hiking Boot: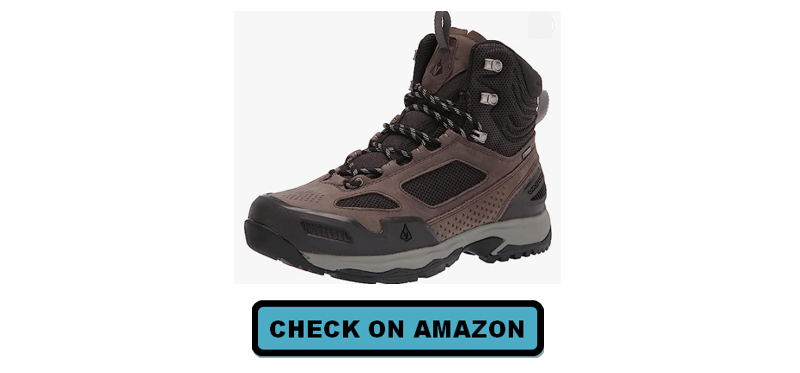 Step into the Vasque Men's Breeze AT-Mid GTX Goretex Waterproof Hiking Boot and experience the perfect blend of performance, comfort, and protection. These boots are built to conquer challenging trails while keeping your feet dry and comfortable.
The GORE-TEX membrane acts as a barrier, blocking moisture from the outside while allowing perspiration to escape, ensuring a dry and breathable interior. The mid-calf shaft provides ankle support and stability, making these boots ideal for varied terrain.
The Vasque Men's Breeze AT-Mid GTX features a rugged combination of Cordura, leather, and suede, delivering durability and abrasion resistance. The rubber sole offers exceptional traction, allowing you to confidently navigate rocky paths and slippery surfaces.
The duo Asoflex midsole combines stiff and soft materials, providing anti-pronation, anti-supination, and anti-torsion benefits, as well as shock absorption.
These boots are designed for light hikers and trekkers who value lightweight construction without compromising on comfort. The water-resistant suede and Cordura uppers ensure that your feet stay dry even in wet conditions.
The GORE-TEX liners enhance the waterproofing properties of the boots while maintaining breathability, so your feet remain comfortable throughout your adventure.
Pros:
Waterproof GORE-TEX membrane, Lightweight and comfortable, Durable construction, Excellent traction, Ankle support, and stability.
Cons:
Limited color options, Slightly higher price point.
2. Vasque Men's St. Elias FG GTX Hiking Boot: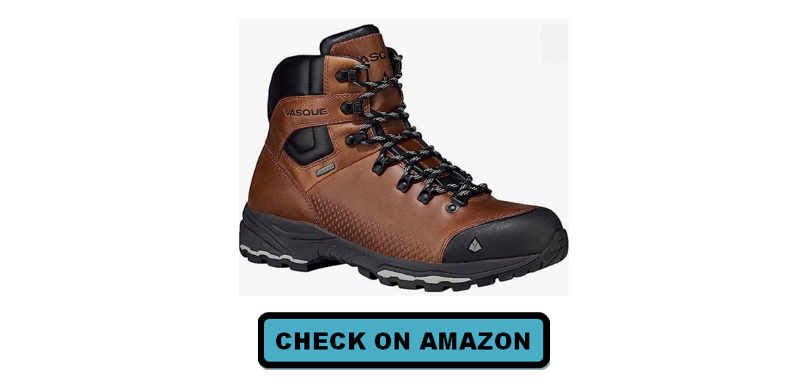 The Vasque Men's St. Elias FG GTX Hiking Boot is a versatile and durable footwear option for outdoor enthusiasts seeking comfort and performance. These boots feature a rugged full-grain leather upper that provides durability and protection against the elements.
The GORE-TEX lining ensures waterproofness, keeping your feet dry even in wet conditions, while the molded rubber toe cap adds extra durability to withstand rough terrains.
Equipped with a firm ATC midsole and EVA comfort pods, the St. Elias FG GTX offers superior stability and cushioning, reducing fatigue during long hikes. The TPU shank enhances support and torsional rigidity, providing a secure and stable platform.
The Vibram Frontier outsole with XSTrek Compound offers excellent traction and grip on various surfaces, ensuring confident steps on both wet and dry terrain.
With a mid-ankle shaft height, these boots provide adequate ankle support and protection without compromising flexibility. The lace closure system allows for a customizable fit, ensuring comfort and preventing blisters and hot spots. The St. Elias FG GTX is a reliable choice for hikers who value durability, performance, and all-weather protection.
Pros:
Rugged full-grain leather, Waterproof GORE-TEX lining, Excellent traction, Superior stability and cushioning, Durable toe cap.
Cons:
Slightly heavier compared to other models, with Limited color options.
3. Vasque Men's Talus AT UD Mid Hiking Boot: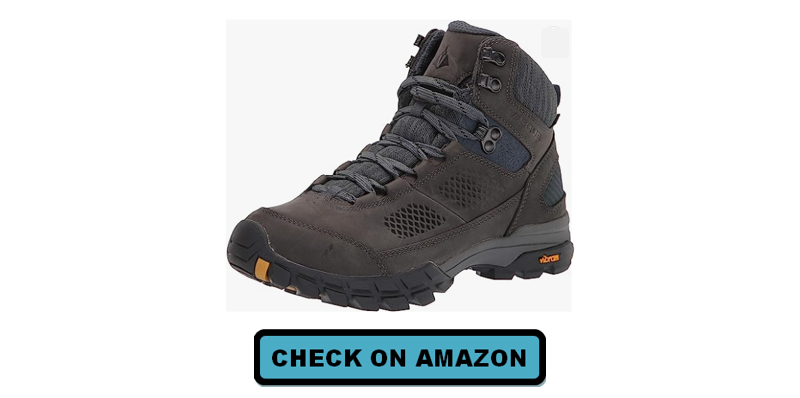 The Vasque Men's Talus AT UD Mid Hiking Boot is designed to provide maximum comfort, durability, and support for outdoor adventures. Crafted from 1.8 mm waterproof nubuck leather, these boots offer excellent protection against the elements while allowing your feet to breathe and regulate temperature.
Featuring Vasque's UltraDry waterproof membrane, these boots create a fully waterproof seal, keeping your feet dry and comfortable in any environment. The Molded EVA and TPU Shank midsole offers underfoot comfort, stability, and durability, allowing for easy break-in and extended use.
The Vibram Mega Nuasi outsole provides exceptional traction on various terrains, ensuring a secure grip and preventing slips and falls. The toe protection enhances durability and shields your toes from obstacles on the trail.
Designed around a straight line last with ample toe room, tailored instep, and a long lace closure, the Talus AT UD Hiking Boot offers a customizable and comfortable fit for a wide range of foot shapes.
Whether you're embarking on day hikes or multi-day backpacking trips, the Vasque Men's Talus AT UD Mid Hiking Boot offers the performance and support you need to conquer the outdoors with confidence.
Pros:
Waterproof nubuck leather, Excellent breathability, Lightweight and durable, Aggressive traction, Comfortable and customizable fit.
Cons:
Limited color options, Slightly longer break-in period.
3 Factors to Consider When Buying Vasque Hiking Boots:
When it comes to choosing the perfect hiking boots, Vasque stands out as a brand that delivers exceptional quality and performance. Here are three factors that make Vasque hiking boots a must-buy for outdoor enthusiasts:
1. Unmatched Durability:
Vasque hiking boots are built to withstand the rigors of the trail. Constructed from premium materials like full-grain leather and nubuck, these boots are designed to last.
Whether you're tackling rocky terrains or trudging through muddy trails, Vasque boots provide the durability you need to keep going mile after mile. Investing in a pair of Vasque boots means investing in long-lasting footwear that will accompany you on countless adventures.
2. Superior Comfort and Support:
Comfort is paramount when it comes to hiking footwear, and Vasque boots excel in this aspect. With features like cushioned footbeds, EVA midsoles, and supportive shanks, Vasque boots offer unparalleled comfort and support
These boots are designed to reduce fatigue and provide optimal stability, allowing you to hike for extended periods without discomfort. The attention to detail in the design ensures that your feet are well-cradled, allowing you to focus on the trail ahead.
3. Reliable Performance in Various Conditions:
Vasque hiking boots are engineered to perform in diverse environments. Whether you're traversing wet, muddy terrain or tackling steep, rocky slopes, Vasque boots provide the traction and grip you need to stay steady on your feet.
With technologies like Vibram outsoles and waterproof membranes, Vasque boots offer excellent traction, even on slippery surfaces, and keep your feet dry in wet conditions. With Vasque boots, you can confidently explore different landscapes and weather conditions, knowing that your footwear can handle it all.
Have a look at our article: Zamberlan hiking boots review
Conclusion:
In conclusion, Vasque hiking boots have earned their reputation as top contenders in the outdoor footwear market. With their unbeatable durability, superior comfort, and reliable performance, they are a must-buy for any hiking enthusiast.
Whether you're a casual hiker or a seasoned adventurer, investing in Vasque boots ensures that you have the right gear to conquer the trails with confidence.
So lace up a pair of Vasque hiking boots, hit the trails, and embark on unforgettable journeys knowing that your feet are well-equipped for the adventure ahead. Choose Vasque, and step into a world of quality, comfort, and unparalleled performance.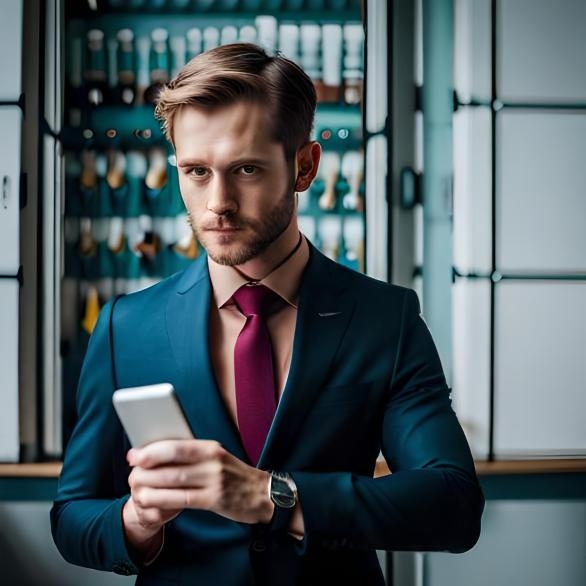 Tyler Looney is an avid hiking enthusiast and the author of HikingBootsPros.com, a website dedicated to providing helpful insights and advice on choosing the best hiking boots. His expertise and passion for hiking have made him a valuable resource for both beginner and experienced hikers alike.